A podcast by and about women in the entertainment industry that provides a fun, easygoing, and safe space to discuss the ups and downs of the female experience in entertainment. Whether we're telling stories with guests, chatting about new projects, or discussing how women can change (and have changed) the industry for the better, we aim to always provide an honest look into what it takes to get your seat at the table and pull up a chair for the next in line. Hosted by Sarah DeFors and Victoria Banks.
Episodes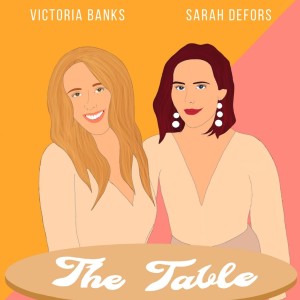 Tuesday Apr 12, 2022
Tuesday Apr 12, 2022
Hit Country Songwriter Kelly Archer sits down to discuss her wild journey and career, including:
From re-writing songs for fun to taking a leap of faith and becoming a hit songwriter
The loneliness of chasing your dreams and importance of community
What does networking, finding your friends & champions, and betting on yourself look like?
Follow the free snacks (and booze)!
The flip from being in-demand to having to prove you deserve to be in the room
Writing songs for men that feel authentic (and don't belittle women)
The difference between working with men and women
Back to basics - writing what and with whom brings you joy after trying to fit in
You can choose to not work with assholes (and you should)
Teams that have your back and what it looks like to know your worth
The difference between established creatives and the new generation - good and bad
The story behind "Sleep Without You" by Brett Young and other hits
Eric Church is Basically Taylor Swift - Get over it!
Male champions for women in music - we love to see it!
The sacrifices and rewards of betting on yourself
Re-writing the same idea and why it's important to always change your POV
Being one of (if not the only) woman in your "class" of peers
Caring too much is a blessing and a curse - know when to lean in & when to let go
Kelly's Bio:
Kelly Archer hails from the beautiful Pacific Northwest of Canada and has been a signed writer in Nashville for the past 20 years. Kelly's songs have been recorded by Jason Aldean, Brett Young, Justin Moore, Travis Denning, Reba, Tricia Yearwood, Eli Young Band, Dustin Lynch, Jo Dee Messina, Montgomery Gentry, Cassadee Pope, Lindsay Ell, Natalie Hemby (Puxico), Chris Lane in the U.S. and Meghan Patrick, Tyler Joe Miller, Tebey, Jess Moskaluke, Shawn Austen, Matt Lang, The Washboard Union and many more in Canada. 
Kelly has had several songs placed in the series "Nashville" and she received the AIMP "Rising Songwriter of the year" award for 2017. Kelly celebrated her first number one song with Brett Young's  "Sleep without you", her second number one with Justin Moore's "Somebody Else Will",  and recently her 3rd #1 with Travis Denning's "After a few".
Notes: 
Kelly Archer: http://www.redcreativegroup.com/kellyarcher 
Kelly's Cuts: https://en.wikipedia.org/wiki/Category:Songs_written_by_Kelly_Archer 
Praying for Daylight - I'm Moving On: https://www.youtube.com/watch?v=NP8SnPcwjgU 
NSAI: https://www.nashvillesongwriters.com/ 
Cole Wright - https://www.wrightnownashville.com/about/ 
Brett Young "Sleep Without You": https://www.youtube.com/watch?v=H06Ep1MTRW0 
Eric Church: https://www.ericchurch.com/