A podcast by and about women in the entertainment industry that provides a fun, easygoing, and safe space to discuss the ups and downs of the female experience in entertainment. Whether we're telling stories with guests, chatting about new projects, or discussing how women can change (and have changed) the industry for the better, we aim to always provide an honest look into what it takes to get your seat at the table and pull up a chair for the next in line. Hosted by Sarah DeFors and Victoria Banks.
Episodes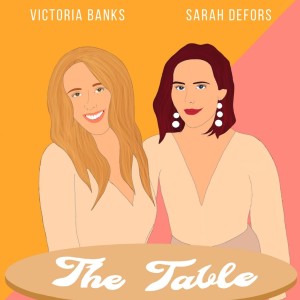 Tuesday Oct 11, 2022
Tuesday Oct 11, 2022
Sarah and Vic discuss the gap in understanding between older generations and Gen Z, and Social media, via first-person concerns gathered anonymously from college students, listeners, and viral artists.  
Topics include:
What happens when the gatekeepers try to jump on the bandwagon
Trusting your creative "gut" over trends and views
What happens if you hit it big and fall off?
Do views and aesthetic decide the quality of the content?
Speed VS. Quality 
Gen Z doesn't give a fuck about your status quo - the standard was never for us
How old structures like labels can hold you back in the age of viral content
Overexposure and how the industry corrects
Authenticity is king - and Gen Z can spot it better than anybody 
Scandals, cancel culture, and post Me Too accountability
The pressure to be famous and always have a take
Is the next phase of the tech age no tech?
Viral content, evolving trends, and societal "correctness"
The importance of mental health and having to face our faults
How seemingly small social trends influence world events
Mentioned creators:
Idiocracy: https://www.imdb.com/title/tt0387808/ 
Loveless "Unholy" Cover: https://www.youtube.com/shorts/TdKWSlEXyaI 
Katie Gregson-MacLeod - complex (demo): https://www.youtube.com/watch?v=tvbKTeuxHVI 
Sam Smith "Unholy": https://www.youtube.com/watch?v=Uq9gPaIzbe8 
Try Guys: https://www.youtube.com/c/tryguys